Become a 200-Hour Certified Yoga Instructor // Fall 2018 Teacher Training Begins in September!
Jul 31, 2018
-
Sep 30, 2018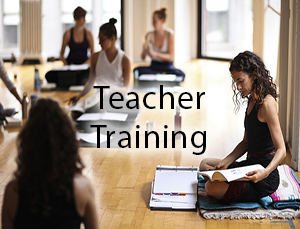 This teacher training is designed to take your personal practice to a much deeper level and prepare you to effectively transmit that experience in your own soulful way. Whether you want to teach or better understand and connect to this beautiful and timeless practice, Fuel The Soul's 200-hour Teacher Training will inspire a wonderful beginning to your yogic journey.
In this course, you will enjoy learning:
• Yoga history and philosophy •Principles of Anatomy in application to the postures •An introduction into the energetic body (Chakras and Koshas) •Hands on adjustments; how to adjust students safely and meaningfully •Sequencing; how to teach a creative, well-rounded, challenging Vinyasa class using the Ashtanga yoga sequence as a guide •Proper alignment; benefits and potential risks of yoga postures •Practice instructing and techniques for cuing with body awareness and recognition • The Art of Teaching students one-on-one •Pranayama and Meditation Techniques; Enable your students to experience body-mind integration and purification through yogic breathing. •How to include all eight limbs in your practice and teaching •The balance of opposing forces; stability and ease, firmness and lightness, strength and flexibility. This training meets intermittently throughout the Fall/Winter, giving you the opportunity to continue on your yogic path while keeping up with your day job. Dates/Times: Thursdays 5:30 PM – 8:30 PM; Saturdays 1:00 PM-6:00 PM; Extra or alternative days and times tba.
Week 1: Sat Sept 15th Week 2: Thurs Sept 20th & Sat Sept 22nd Week 3: Thurs Sept 27th & Sat Sept 29th , Sun Sept 30th (workshop) Week 4: Thurs Oct 4th & Sat Oct 6th Week 5: Thurs Oct 11th & Sat Oct 13th Week 6: Thurs Oct 18th & Sat Oct 20th Week 7: Thurs Oct 25th & Sat Oct 27th Week 8: Thurs Nov 1st & Sat Nov 3rd Sun Nov 4th (special guest teacher) Week 9: Thurs Nov 8th & Sat Nov 10th Week 10: Thurs Nov 15th & Sat Nov 17th & Sun Nov 18th Week 11: Sat Nov 24th Week 12: Thurs Nov 29th & Sat Dec 1st Week 13: Thurs Dec 6th & Sat Dec 8th Week 14: Thurs Dec 13th & Sat Dec 15th Week 15: Thurs Dec 20th Final exam & Sat Dec 22nd practicums Week 16: Additional practicums and practice teaching , observing and assisting classes.
Graduation Celebration TBA Early Bird Rate: $2,850 ( if paid in full by Aug 31st) Regular Tuition: $2,950 The training cost includes a comprehensive manual, plus unlimited yoga classes during the training which will be a full YEAR included with training . A $500 non-transferable, non-refundable deposit is required to reserve your spot in the program. Tuition includes, special guest teachers and lectures on topics ranging from the Bahagavad Gita , Iyengar yoga, to Yogic diet and lifestyle. Fuel The Soul trainees emerge from training feeling confident and ready to practice and teach what they have learned and experienced. A Written Exam and a minimum 10 hours spent assisting, observing and teaching live classes will be required for graduation. Graduates will be able to register with Yoga Alliance at the RYT-200 Level Pick up your application in person at the studio.