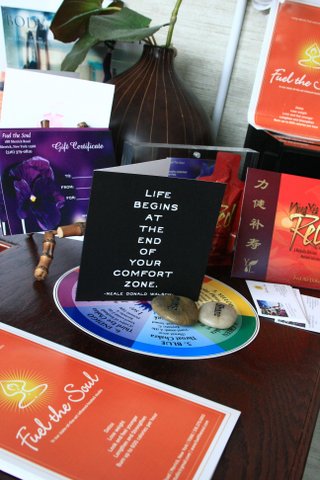 Our aim at Fuel The Soul is to bring our community more health, vibrancy, energy and radiance.  We have taken great care in choosing products and services that help ignite the flame within and Fuel The Soul!  Whether you are looking to burn calories in our Clear Light Infrared Sauna, relax with a therapeutic service, enjoy a non-heated yoga class or heat-up in one of our many Infrared Heated Yoga classes,  our hope is that you will find our space an inviting and nurturing place to enjoy the healing arts. We won Best Yoga Studio On Long Island for 2014 and 2015 and are Long Island's First Infrared Heated Yoga Studio. We are conveniently located in the heart of South Merrick on Merrick Road. We have ample parking available in our lot and on Merrick Road. We look forward to meeting you and being a part of your healing experience.

The Infrared Experience
Fuel The Soul was the first studio on Long Island with a state-of-the-art infrared heating system to provide a more penetrating and detoxifying exercise experience. Enjoy the benefits of all of our group classes plus the benefits from Far Infrared Heat.
What are the benefits of Far Infrared Heat?
FIR is the invisible part of the sun's spectrum. FIR waves are capable of penetrating deep into the human body where they gently elevate the body's surface temperature and activate major bodily functions.
The human body is composed of 90% water. Far infrared rays cause resonance in water molecules, activating them and ionizing them. Because of this effect, Far Infrared heat Therapy offers a variety of proven health and beauty benefits.
Far Infrared Heat Therapy "F.I.T." helps to increase blood circulation without putting strain on your heart and increases the levels of oxygen and white blood cells in your blood. It also stimulates the production of collagen in your body and helps to rid your body of toxins by causing you to perspire. You get the benefit of a stronger immune system, better cardiovascular health and a faster ability to heal from soft tissue injuries such as tears, sprains and pulls. F.I.T also serves as an effective way to help cure hangovers.
Widely used in the healthcare industry, from keeping babies warm in the neonatal unit, to maintaining astronaut's health in space, Far Infrared Heat can also be used as a beauty treatment. It reduces the appearance of crow's feet, fine lines and wrinkles. In addition to helping heal scars, wounds and cuts, it soothes your skin's texture, lessens coarseness and reduces pore size.